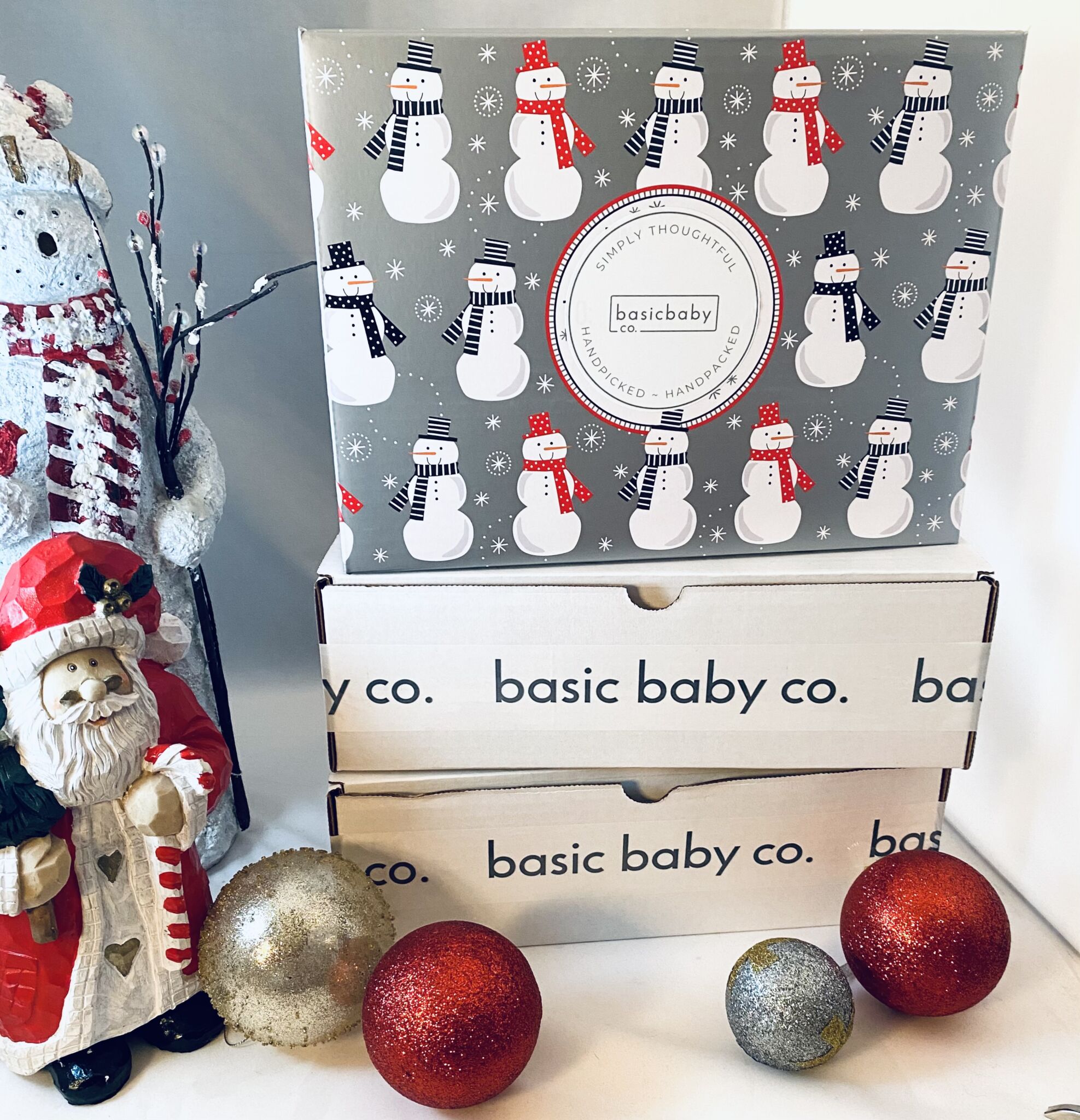 02 Nov

The basic baby co. Holiday Gift Guide

Is anyone else asking themselves how we are already thinking about Christmas gifts when it seems like summer is barely over? We know we are! But with the holiday giving season fast approaching, we thought we better hurry up and put together our basic baby co. holiday gift guide. We hope this will help you to make finding the perfect Christmas gift for a baby, a new mom, or even the little fur baby in your life just a little bit easier.
Gift Bundles Make Gift Giving Easy!
At basic baby co. we are all about gift bundles! Why? Because it takes the stress out of finding the perfect, thoughtful gift. With a gift bundle there is no need to worry whether that one item you buy is something that they will actually use or don't already have. With our handpicked selection of items, each of our baby gift bundles offers a collection of the best products that we know a new baby, new mom, or dog will actually need and use…all in one gift and shipped anywhere in North America!
The Best Baby Gifts for Christmas
Here is our roundup up of basic baby co.'s best gifts for the babies on your list, the expecting moms and fur babies too. With our unique collection of gift bundles, we have a gift for almost everyone on your list. You can add your personalized greeting to each of our gift bundles, which are tastefully wrapped in tissue with ribbon so as to be sure the recipient has a lovely gift opening experience.
After four years of selling baby gifts, we decided that it was finally time to get on the Christmas train and curate a special Christmas themed baby gift bundle! Shipped in a festive mailer, our Beary Merry Christmas Gift Bundle includes a teddy bear, a collection of favourite bear themed board books, and a keepsake polar bear ornament. With a focus on offering gifts that are useful and can grow with baby, this bundle is a great way to celebrate baby's first Christmas, but will delight a baby of any age or a young toddler.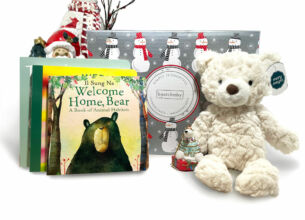 Looking for a Christmas gift for an expecting mom that is a little less traditional? Our postpartum gift bundle (often referred to as 'the vagina box') is by far our most unique (and popular) gift bundle. Filled with hospital-grade essentials needed to support a healthy postpartum recovery – think maternity pads, disposable mesh underwear and perineal balm – this is sure to be one of the most memorable Christmas gifts an expecting mom will receive.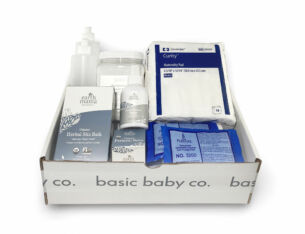 If you are looking for a baby gift that is a little more traditional, the Love to Baby Gift Bundle is a thoughtful Christmas gift for expecting parent(s) or a new baby. Gender neutral and filled with premium essentials that every new baby will definitely need, this gift bundle is a bestseller for good reason!
There is truly no sweeter sound than a baby's laugh…and this gift bundle is sure to do exactly that! With a collection of some of the most popular toys for babies, this colourful gift bundle, that is designed to grow with baby, makes for a fun Christmas gift for any baby under 12 months.
It doesn't need to be a first birthday to gift the 1st birthday gift bundle! Perfect for any baby 12 months or older, this gift bundle is filled with a collection of fun puzzles, toys, and books that will provide endless hours of entertainment as baby continues to grow and develop.
Want to add a personal touch to your gift? Choose from our collection of quality essentials for babies and create your own custom baby gift bundle with exactly what you want and you know they will love.
Last but not least, the fur baby gift bundle! For many of us, our furry four-legged friends are as much a part of the family as anyone. If you are looking for a way to spoil your own fur baby on Christmas morning or you want to welcome a loved one's new dog to the family, this is the gift bundle for you!
From our family to yours, we wish you a very safe, happy, and healthy holiday season and thank you for supporting small business.