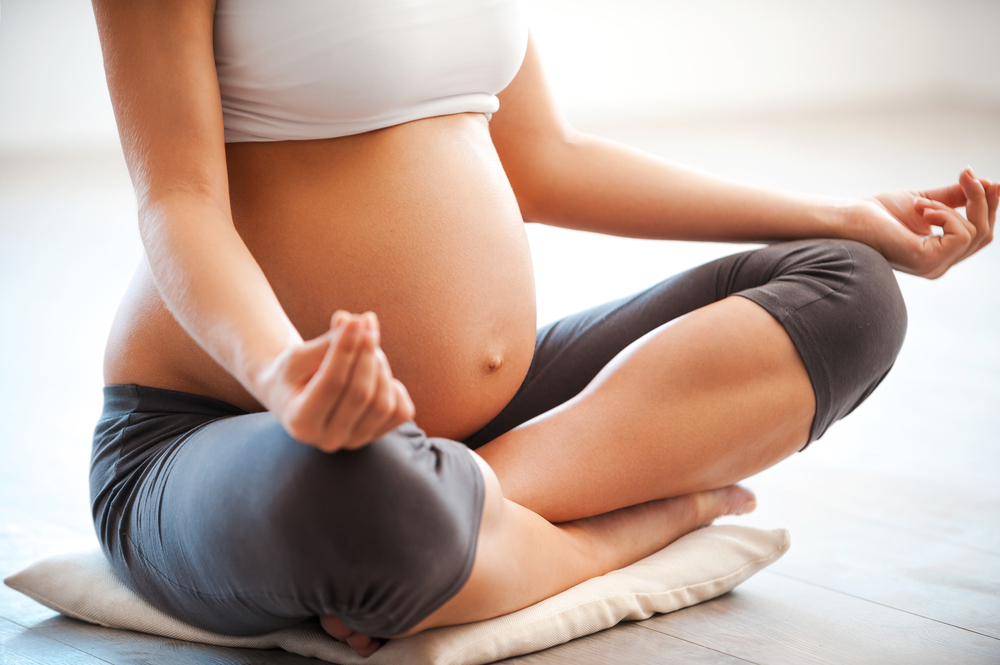 28 Jul

How to Zen the F Out When There's a Baby on the Way

I think it's fair to say that my pregnancy experience so far has been less Earth Mother and more Hot Mess. But while I've started caring less about what I look like on the outside, I have started caring more about how I feel on the inside, believing that whatever vibes I'm feeling (good or bad) are being passed on to my baby.

So as much as I can, in and among all the things that come along with getting ready for baby, I have been trying to carve out time for self-care. Here are the ways I've been attempting to find some pregnancy chill when life has just become a lot more complicated:

Yoga
I have been practicing yoga off and on for over a decade. It's the one form of physical activity that I keep coming back to when I get bored of other forms of fitness and well-being. It's been beneficial for me during pregnancy to set aside time for a good stretch and a moment of mindfulness, especially since my days are now filled with baby preparation chores like batch cooking and last-minute Amazon orders. I have continued with hatha classes (preferably with prenatal-certified instructors) and supplemented them with prenatal classes, which I'm more inclined to attend as my belly grows. I have also joined a six-week course that specializes in pelvic floor yoga to get my nether regions in tip-top shape for birth.

Although my preference is to do yoga within a class, for those days when I just can't drag myself out of my house, Do Yoga With Me has been a good alternative. Note: consult a health practitioner before doing any new physical activity.

Meditation
Although I've had good intentions to make this a part of my daily routine (even pre-pregnancy), it is the first thing that gets forgotten about when I have a lot going on, which is really too bad because this activity doesn't require any gear or guidance. And with meditation advocates saying the benefits of concentration, peacefulness and happiness can be achieved with only minutes a day – there really is no excuse! Meditation can be as simple as following your breath for a period of time, and it's this very basic technique that I plan on taking with me to the delivery room.

I anticipate being very distracted on the day I go into labour so if I find my simple breathing techniques are not quite working, I'll switch to the free guided meditations available through apps like Calm or Headspace. There's nothing like birds chirping in a forest soundscape to calm my nerves…

Forest bathing
This is a delightful term that describes taking in the atmosphere of a forest. Shinrin-yoku was first coined in Japan in the 1980s and since then, studies have shown the positive physiological and psychological effects of making contact with nature.

In pregnancy, when much of our mobility can become limited, we are encouraged by our health practitioners to go on walks. But rather than ambling through an urban setting, there is a certain peacefulness that comes with walking among trees, flowers and other plants. Also, as someone who is sweating through their third trimester in the summertime, I find the shade provided by the foliage to be a welcome bonus.

If heading to a bona fide forest is logistically complicated, then a city park should do the trick. I've found a quiet, leafy boulevard in the next neighbourhood over to be just the place I need to get my forest bathing on.

While I have been looking to yoga, meditation and forest bathing to prep myself for the birth of my first child, I have no doubt these activities will continue to be beneficial in the months afterwards. They will be physically gentle enough to engage in during my period of recuperation and will continue to strengthen my mind and spirit in a time of new beginnings and uncertainty. Ultimately, nothing can be predicted or scheduled in the baby game, so hopefully I'll be able to remind myself from time to time not to be so hard on myself and to zen the F out once in a while.

Written by Karen Glanzberg, contributing basic baby co. blogger and first-time mama-to-be.